Enhancing Vocabulary Instruction to Improve Academic Success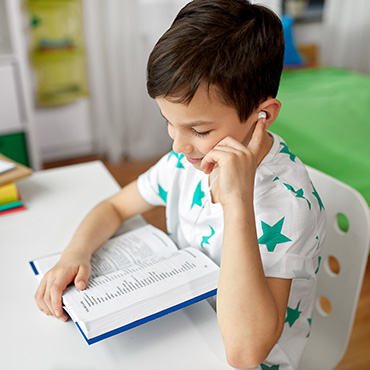 About the Course
Research indicates that the breadth and depth of a student's word knowledge is directly linked to reading comprehension and overall academic success. The quality of a reader's knowledge of the words in a text is crucial for reading comprehension and proficiency. Additionally, a rich vocabulary is the foundation that shapes a student's understanding of the world, and allows for more meaningful engagement in academic discourse.
In this class, participants will explore a structure for vocabulary instruction that inspires students to build more interest in words, engage in deeper processing of meanings and create more vast lexicons. Participants will learn a framework that was designed for teachers who have daily Language Arts periods. This framework explicitly introduces the meaning of words and solidifies understanding with thought-provoking and interactive follow-up activities.
Throughout the course, participants will refine their process for determining suitable words to teach, write more comprehensible student-friendly definitions and learn seven concrete steps for introducing new words. A variety of follow-up activities for universal instruction (Tier I) and targeted instruction (Tier II) will also be addressed. Additionally, participants will gain methods for assessing vocabulary, strategies for English language learners and ideas for incorporating new vocabulary into writing. At the end of the course, participants will create a 5-day lesson plan for introducing and reinforcing new vocabulary while using content from their classroom curriculum.
This course is appropriate for elementary, middle and high school teachers in all content areas. Instructional coaches, special education teachers, special service providers and anyone who teaches vocabulary to students are invited to join.
Required Text:
Upon completion of this course, the student will be able to:
Identify appropriate words to include in instruction based on utility, conceptual understanding and instructional potential.
Write student-friendly explanations for discussing word meanings that are explicit and clear.
Develop a 5-day lesson plan following an instructional sequence that includes systematic word introductions and follow-up activities to enrich the speaking and listening vocabularies of students in primary and intermediate grades.
Implement a variety of methods for assessing different levels of word knowledge to support student learning.
Provide increasing levels of scaffolding for struggling students and English language learners.
Grade(s):

Subject(s):

Teacher Quality Standard(s):
Reviews
Grace Helgeson
Great class. Very relevant to my teaching. Various strategies are presented and I was able to figure out which ones I want to try. Great feedback is given.
Kimberly Myrick
I appreciated learning effective strategies that I will use in my classroom. The instructor communicates clearly and provides informative feedback. I truly enjoyed this course!
Michael Duarte
This was a really good class. The work in the class was practical and was something that I can use in my class next year.
---
Leave a Review