Purposeful Play: A Teacher's Guide to Igniting Deep and Joyful Learning Across the Day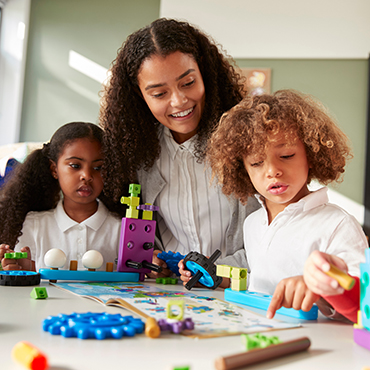 About the Course
Educators will participate in an online book study to further develop their understanding of the importance of play in their classrooms. The authors assert, "Play is one type of environment where children can be rigorous in their learning." Throughout this course, K-5 teachers will learn how to incorporate play and learning into their classrooms. At the end of this course, teachers will understand and be able to incorporate play as its own method of instruction and align it with standards. This course is appropriate for elementary teachers in all content areas.
Required Text:
Upon completion of this course, the student will be able to:
Educators will be able to design and implement play environments in subjects taught.
Identify the benefits of play across academic curriculum.
Develop a plan to apply in the classroom.
Provide purposeful play opportunities for ELL students to be successful.
Grade(s):

Subject(s):

Teacher Quality Standard(s):
Facilitator
Barbara Pedrett
---
Reviews
Kimberly Vandenbark
This was a great class! I have always known the importance of play but it was great to learn about different ways to make learning fun.
Sonya
If you are trying to prove the importance of play and joy in learning to your administration then this is the class for you! Plus, you will learn how to create a playful classroom in which your students will thrive!
---
Leave a Review