Strategies for Integrating Science and Engineering Practices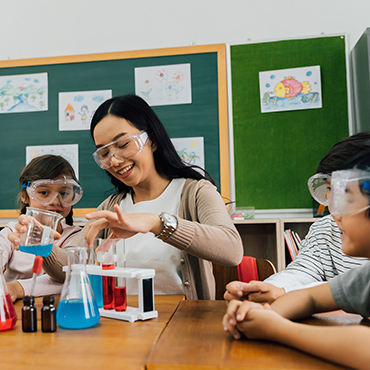 About the Course
What are the science and engineering practices in Colorado Academic Standards for Science? How do they progress for students from K-12? In this course you will learn these answers to these questions and then complete a project based project to develop a tool box of strategies used to teach the Science and Engineering practices:
Asking Questions/Defining Problems
Developing and Using Models
Planning and Carrying Out Investigations
Analyzing and Interpreting Data
Using Mathematics and Computational Thinking,
Constructing Explanations and Designing Solutions
Engaging in Argument from Evidence,
Obtaining, Evaluating, and Communicating Information
You will then use this tool box to create a lesson plan that integrates multiple science and engineering practices to use in your own classroom.
Upon completion of this course, the student will be able to:
Describe the role of the Science and Engineering Practices in 3-dimensional Learning
Define each practice using student appropriate language for a given grade level.
Unpack Colorado Science standards to determine what students need to demonstrate to show proficiency in the Science and Engineering Practices
Develop a tool box of strategies through research and synthesis to teach students each of the Science and Engineering Practices.
Develop a lesson plan that integrates multiple Science and Engineering practices to teach a specific state standard
Grade(s):

Subject(s):

Teacher Quality Standard(s):
Reviews
Elizabeth Orme
Great course with amazing resources you can use in your classroom right away.
Emily Glissmann
I highly recommend this course for any teachers transitioning to or improving NGSS-inspired Science instruction. This course is packed with strategies and frameworks that can be immediately applied to any science content or grade level.
Joseph Bailey
I really enjoyed learning about science and engineering practices and how they correspond to state/NGSS standards in this class. The assignments were interesting and gave me lots of freedom to tailor my plans for my specific content area.
---
Leave a Review